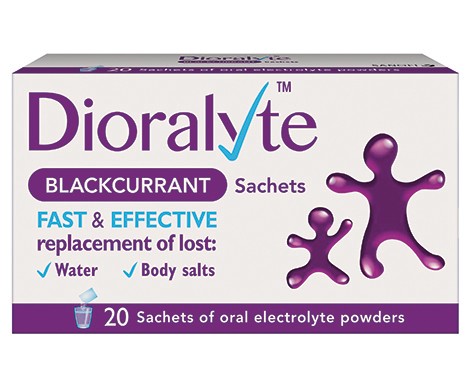 Category
Infants and Babies, Antacids and Gastrointestinal
Pack size
6, 20 (blackcurrant only)
Uses
For treatment of fluid and electrolyte loss associated with acute diarrhoea.
Format and Ingredients
Powder for oral solution containing:
Disodium Hydrogen Citrate 0.53g
Dosage
Adults: contents of 1 or 2 sachets after every loose motion. Children: 1 sachet after every loose motion. Infants up to the age of 2: one to one and a half times the usual 24 hour feed volume of Dioralyte Solution under medical supervision. Dissolve contents of 1 sachet in 200ml of drinking water. For infants, and when drinking water is unavailable use freshly boiled then cooled water. Also available in citrus and natural flavours.